Demolition of an existing footbridge and construction a new single span 18m footbridge over the River Burn of Cromdale adjacent to the A95.
Project Overview
The project involved the replacement of the existing Cromdale Footbridge adjacent to a listed road bridge, which crosses the Burn of Cromdale. The site is located approximately 4km east of Grantown-on-Spey in the center of Cromdale in Scotland.
Works included the demolition of existing timber pedestrian footbridge, tree clearance and service diversions, and the construction and erection of new 18m steel/timber footbridge, concrete foundations and abutments, and associated resurfacing, drainage, fencing and landscaping works.
The project also required the design and installation of all temporary traffic and pedestrian management sequencing to enable the safe delivery of the project.
All works were carried out in a restricted environment, with pedestrian and vehicular traffic having to be maintained at all times. In addition, all works were undertaken adjacent to an existing listed grade 2 road bridge structure and above an existing watercourse.
Key Features
Demolition of existing footbridge and construction of new 18m footbridge with concrete foundations and abutments
Installation of 600m³ of rock armour to river embankments
Site clearance and utility diversions (both overhead and underground)
Stone and masonry repairs and repointing to the adjacent masonry road bridge parapets
Timber fencing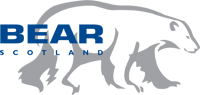 Project Team
Client:
BEAR Scotland
Project Details
Contract Value:
€0.2 Million
Duration:
2 Months
Location:
Scotland